The diet we follow in the winter can help prevent illness. Soup is one of the must-eat foods of winter. Here we have provided barley and vegetable and cereal soup recipe.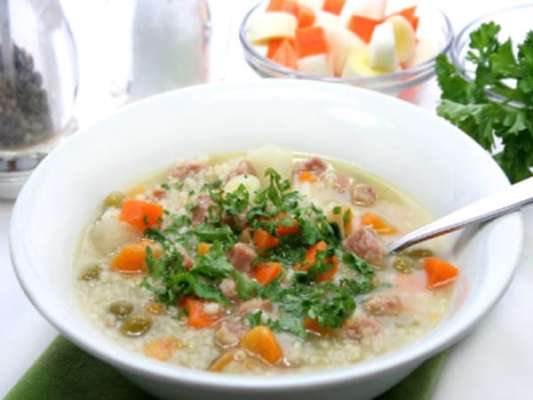 Equipment required
100 g of barley
2 tablespoons cooking oil
Half a tablespoon of mustard
1 tablespoon cumin
2 raw chilli (seed extract)
1 Palau leaf
2 cloves
Flask about 1 inch larger
1 parsnip leaf
1 large onion
3-4 Coriander Garlic (shortened)
200g sweet pumpkin (mature)
Carrots
Spoon turmeric powder
200g sweet potato
1 tablespoon pepper
1 tablespoon coriander powder
225 grams of grains
2 tomatoes
Slight coriander leaves
1 tablespoon grated ginger
1 tablespoon lemonade
Procedure:
* Boil the barley and drain it.
* Now heat the pan, heat the oil in it, and when the oil is hot, add mustard, cumin, chilli, Palau leaf, flakes, cloves, turmeric, and now roast for 4-5 minutes.
* Once the onion is tender, mix the right sweet pumpkin, sweet potato, parsnip. Now add the chilli powder, coriander powder and mix.
* Now add whole grains, barley, tomatoes, 1.7 liters of water, add salt to taste and cook until the vegetables and grains are cooked. After the grains are mixed, add the coriander, ginger and lemon.
Benefits of drinking barley soup in winter:
* This soup is helpful in preventing my weight gain during the winter.
Drinking soup will boost immunity.
* Once the soup is done, it can be used anytime of the day.
* Hot hot soup is helpful in controlling blood pressure.
* Ginger, garlic and onion used in soups can help keep the body warm during the winter.